About Bill Dillion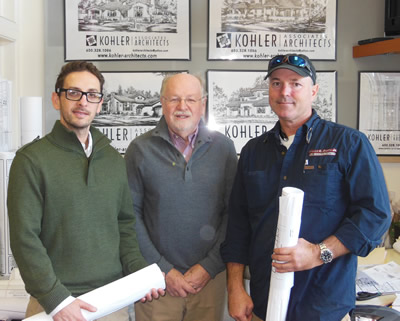 Bill Dillion (right) with architects Matthew Kohler and Rodger Kohler (left to right).
Bill comes from a construction background as his father was a general contrator.
Bill's background in construction started at the age of 13, going to work with his father. After graduating high school, he started working as an apprentice carpenter in the union. After two years Bill attended college. A short time later, he returned to his apprentice as a carpenter, working on poured in place high-rises in San Francsico, custom homes in Hillsborough, and tracks in Foster City. Bill worked as a Foreman for Fred Schell Construction, one of the older San Francisco construction companies and for Mimco construction a large Framing contractor. In 1993 at 28, Bill acquired his General Contracting License and in 1997 acquiring his C-10 (electrical) license.
Bill specialty is in electrical lighting and design but with his construction knowledge, he is able to keep the sub-contractors down to a minimum allowing him to keep a closer eye on the jobs and keep them running smoothly.